Old West Special Trails Serves Over 350 Children And 100 Horses Annually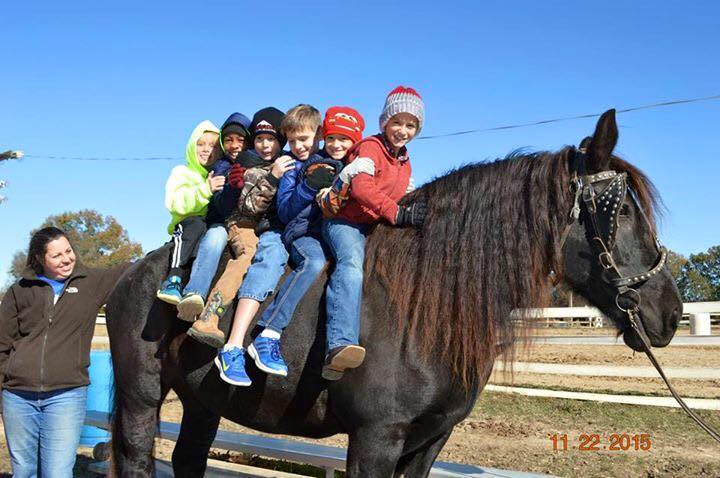 Changing Kids Lives One Ride At A Time
Old West Special Trails, Inc. was established in 2003 with the goal of using horses as a tool to improve children's lives by providing them a safe, family-friendly ranch environment while learning horsemanship. Our organization is dedicated to providing Memphis area children with the opportunity to interact and grow from an Old West horse experience. A relationship with a horse helps teach a child responsibility, builds their self-confidence and enhances their self-esteem through their personal accomplishments.
Joshua 1:9 - Be strong and of good courage; do not be afraid, nor be dismayed, for the LORD your God is with you wherever you go.
Debbie Cooley
This special lady works so hard to make sure each child has a positive experience while at Old West. She has been gifted with the ability to reach those "harder to reach" children that are more apprehensive around horses. While instructing students about horses, Debbie positively motivates the eager to learn, but also is sensitive to the needs of the more uneasy. She demonstrates skills that cannot be taught. Debbie is phenomenal because it is more than a career, it is her life. She works countless hours behind the scenes with her husband Danny to keep things going at Old West.
Danny Cooley
Danny is the heart of Old West. He works effortlessly to ensure every horse gets fed twice a day as well as hay at all times. Filling water troughs and checking for injuries are just some of the other tasks he completes daily. Danny has drawn up the plans for the buildings and arenas and has been there to oversee all of the construction.  Not only does he spend his days tirelessly working during the day, but he spends hours doing the necessary paperwork at night. He guides Old West in the right direction by making countless decisions with God's help. Danny's dream to have a safe place for kids and adults be able to interact with horses has come true!
Danny and Debbie love what they do and think that this is their mission in life "Bringing kids and horses together one ride at a time". Their goal is that children are encouraged and their self esteem is built up using the horses as tools to do this. When a child leaves Old West after a lesson or camp feeling better about themselves than they did when they arrived then we've done our job. Children hear so much negative in the world. We want Old West to be a positive part of their lives.
---
Old West Stagecoach Line was founded in 1990 by Debbie and Danny Cooley.  Their vision is that every child has the opportunity to know and love a horse without regard to financial, physical, or mental restrictions.  Through their faith, they have created a unique safe-haven for children and horses.